Happy Sunday!
Ok We had some difficulties with the store this AM and I appologize the posts just didnt post... so I redid them and we are good to go!!! yay!!!
SO I wasnt going to post the pics of the images here this time but I realized I forgot to post the blinkie soooo since I have to come by and post the blinkie code I thought I'd go ahead and do the introductions to the new images as well

SO.... 1st up we have 2 fab new backgrounds.
Under the Christmas Tree
and Home for the Holidays
I have really liked doing these backgrounds I really think they help set the stage with some of the characters, or can even be fabulous on their own!
and we had to have a Sassy Snow Bunny!
Baby it's cold outside with her cocoa or latte trying to keep warm
Skiing Stacey hitting the slopes!
and Mommy kissing santa claus!!! my fav ever! lol
And due to an overwhelming demand in your feedback on the 1st.... I did our 1st ever Male Sassy ...ok well we wont call him a sassy for long I'm working on a more masculine tittle to give our guys but until then... here he is!!!
this image is called... A gift for you
now no that is not it...but i am reserving a few surprises for tomorrow, because well I am using them as gifts and prizes for todays release sooooo.....make sure you check back!
now before I forget again lets get that blinkie code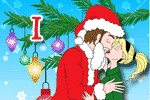 so dont forget to copy the code in the box and add to your HTML
<em><a href="http://s119.photobucket.com/albums/o124/lillinds811/?action=view&current=kissing209.gif" target="_blank"><img src="http://i119.photobucket.com/albums/o124/lillinds811/kissing209.gif" border="0" alt="Photobucket"></a></em>
ok and.... one last tid bit... I did forget to post the DT call out and I am very sorry I am working on getting it all typed out right now and it will be posted later today I promise! ....and....if I dont.... I will post a brand new bonus freebie here on the blog ! (what do i mean by bonus.... hmmm could that mean there will be one with the call out anyways?!?!?! hmmmmm)
lol ok I know I am not subtle lol